Handmade Drums mit den besten Zutaten auf dem Markt
Wer mit Leidenschaft Musik macht, hat auch ein Instrument verdient, das mit Liebe gebaut wurde. Masshoff Drums werden aus den edelsten Materialien und mit größter Liebe zum Detail gefertigt.
Udo Masshoff entwirft, entwickelt und fertigt jede seiner Trommeln selbst, damit sie den höchsten Anforderungen entspricht. Unsere Drums sind nur in ausgewählten Musikgeschäften und in unserem eigenen Online-Shop erhältlich.


"What I really love
at Masshoff Drums is
that you can feel it
in your body!"

Carlo Caduff


"I love the Masshoff Drums
because they are
extremely flexible"

Earl Harvin

The sound of the Masshoff snare drum is simply so unique and it sounds in my standard tuning (fat and low) more aggressive and mightier than all other drums that I know. This adds little mojo to every recording.
"I can get any sound out of my Big Chief Snare Drum, from very low to very high volumes."
The sound! No matter if you play VERY SOFT or extreme L O U D, you will always have a warm full sound! The snare is 100% precise.
"But the biggest thing about Masshoff Drums is the sound. It's rich, distinctive, with big dynamic range. Masshoffdrums are unbelievably flexible live and in the studio and make my life easier, they are great instruments."
Apart from the superior sound, Masshoff drums are perfectly suited for the use in the studio as they are easy to tune, they keep the tuning very well and last but not least they are a real eye-catcher and the drummers love them first sight
Personalized Snares [configurator]
00023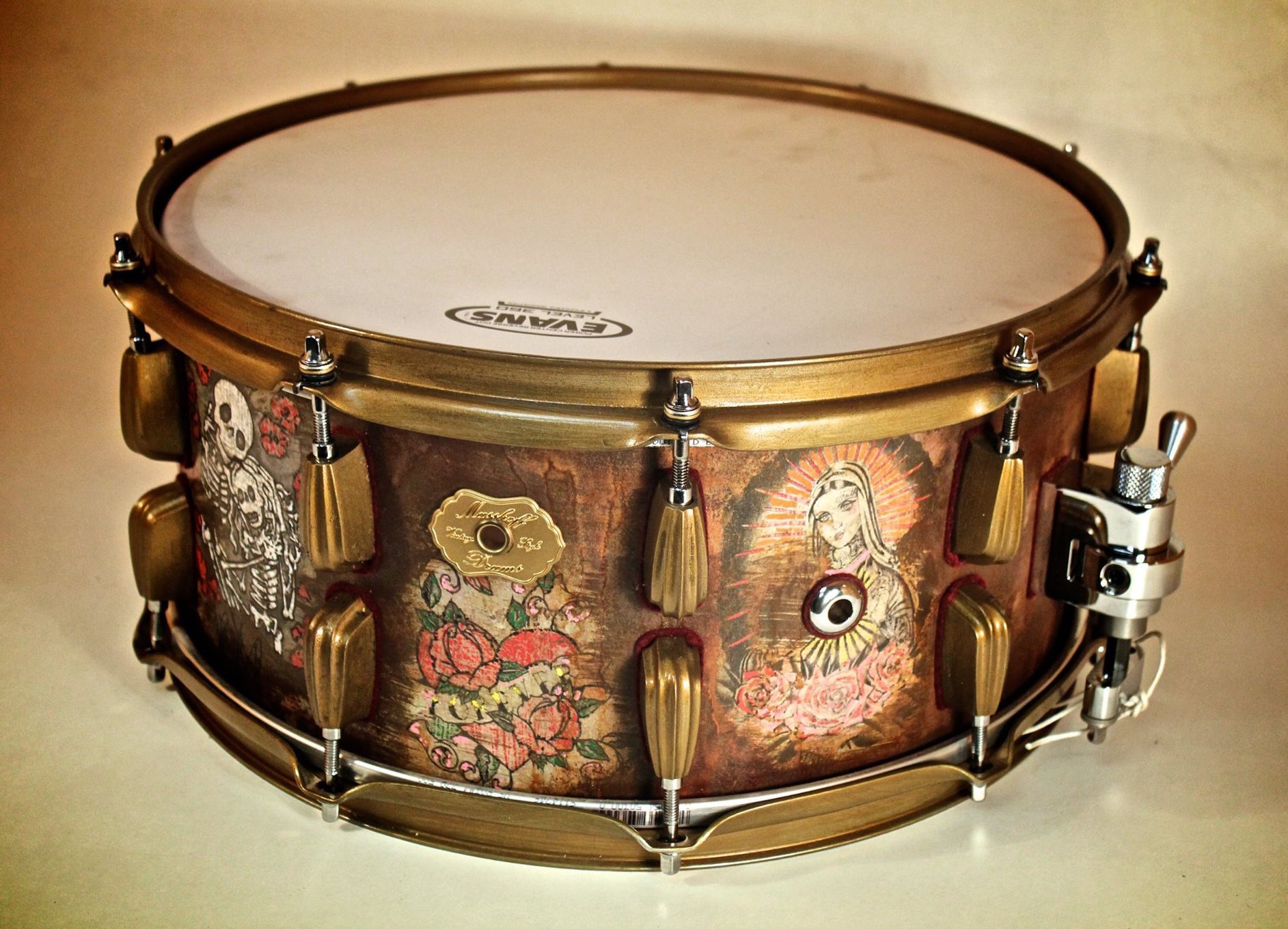 Need advice? Just call Udo Masshoff or send an email:
+49 (0) 172 21 91 222
info@masshoffdrums.com
You could also name this category "Art on Drums"
This is your personal piece of art matching to your soul. Nobody else needs to understand the drum.

It is all about your passion as a human being, things you love that Udo is trying to capture in your drum´s finish. This can be done with any material or engravings, paintings, pictures or whatever inspires him to work with. Sometimes drums can take up to 40 hours of working time. A good custom builder realizes the dream of his clients. But the greatest gift to us is to surpass the dream of the client. The client of the Elvis drum called us 4 times the day he got it to tell us how much he loved it. This is what it is about. Instruments that connect and become part of you!
The prices for these drums can be a bit more expensive, if your snare will be very labour intensive. Write us an email with your idea and we will give you a quotation! We are looking forward to build your personal dream snare drum!
NOTE ON DELIVERY TIME
As all snares are individually handmade by Udo Masshoff, the delivery time can be between 4 and 12 weeks depending on the order situation. If you are in a hurry, please ask in advance if a faster delivery is possible.
IMPORTANT NOTE FOR INTERNATIONAL BUYERS
The buyer has to bear the actual shipping costs. Shipping costs outside Germany will be charged separately. The shipping costs shown in our system are estimates only. Please ask before the purchase for the shipping costs to your destination.
Please contact me if you have any questions about my personalized drums:


Mail: info@masshoffdrums.com
Phone: +49(0)172 2191222
[lang="de"]

HINWEIS ZUR LIEFERZEIT
Da alle Snares von Udo Masshoff einzeln handgefertigt werden, kann die Lieferzeit je nach Auftragslage zwischen 4 und 12 Wochen betragen. Wenns eilig ist, bitte vorher nachfragen ob eine schnellere Lieferung machbar ist.
WICHTIGER HINWEIS FÜR INTERNATIONALE KÄUFER
Der Käufer hat die tatsächlichen Versandkosten zu tragen. Die Versandkosten außerhalb Deutschlands werden gesondert berechnet. Die in unserem System angezeigten Versandkosten sind nur Schätzpreise. Bitte fragen Sie vor dem Kauf nach den Versandkosten an Ihren Bestimmungsort.
[/lang]

Size
14"x5" (0) 14"x6,5" (126.05) 14"x8" (168.06)
Hoops
2,3 mm Steel Hoops (0) Die Cast Hoops (0)
Twinshell (retracktable maple shell inside)
Twinshell (252.101) without Twinshell (0)