Kraftvolle Drums - mit Liebe und Leidenschaft gemacht
Wer mit Leidenschaft Musik macht, hat auch ein Instrument verdient, das mit Liebe gebaut wurde. Masshoff Drums werden aus den edelsten Materialien und mit größter Liebe zum Detail gefertigt.
Udo Masshoff entwirft, entwickelt und fertigt jede seiner Trommeln selbst, damit sie den höchsten Anforderungen entspricht. Unsere Drums sind nur in ausgewählten Musikgeschäften und in unserem eigenen Online-Shop erhältlich.


"What I really love
at Masshoff Drums is
that you can feel it
in your body!"

Carlo Caduff


"I love the Masshoff Drums
because they are
extremely flexible"

Earl Harvin

The sound of the Masshoff snare drum is simply so unique and it sounds in my standard tuning (fat and low) more aggressive and mightier than all other drums that I know. This adds little mojo to every recording.
"I can get any sound out of my Big Chief Snare Drum, from very low to very high volumes."
The sound! No matter if you play VERY SOFT or extreme L O U D, you will always have a warm full sound! The snare is 100% precise.
"But the biggest thing about Masshoff Drums is the sound. It's rich, distinctive, with big dynamic range. Masshoffdrums are unbelievably flexible live and in the studio and make my life easier, they are great instruments."
Apart from the superior sound, Masshoff drums are perfectly suited for the use in the studio as they are easy to tune, they keep the tuning very well and last but not least they are a real eye-catcher and the drummers love them first sight
Masshoff Drums 14"x 5" Premium Stahl Snare Drum "Rogers / White Marine Pearl"
00062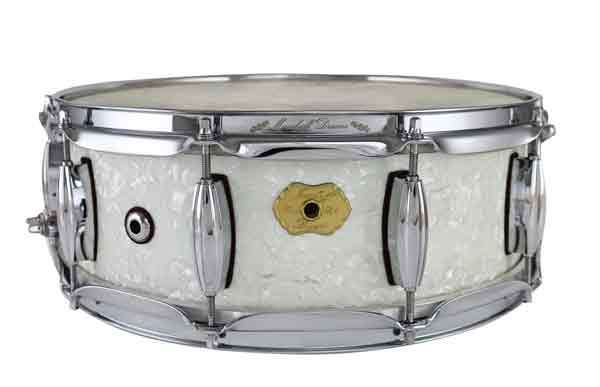 Masshoff Drums 14"x 5" Premium Stahlsnare
Rogers / White Marine Pearl
Diese hochwertige Snare ist ein Unikat und wird es in dieser Ausführung auch nur einmal geben. Warum? Weil es sich beim Finish um eine original Folie aus den 60er Jahren handelt und zwar von einer Rogers Bass Drum.
Ansonsten hat diese Snare alle typischen Masshoff Features wie massive gegossene Stahlkessel, 2,5 mm Spannreifen aus Stahl und den authentischen Look der 40er Jahre.
Der 14"x5" Kessel hat einen enormen Druck und klingt ... aber hört selbst im Video.
Features
Unikat / Einzelstück – sofort versandbereit
Premium Stahlsnare
Größe: 14" x 5"
Massiver gegossener Stahlkessel
Schwere Verstärkungsringe oben und unten
Gravierte Spannreifen aus 2,5 mm Stahl oben und unten (dreifach geflanscht)
1x10 Beavertail Lugs (Böckchen im 1940er Jahre Repro Design, schwere Ausführung)
Original Masshoff Snare Teppich (42 Spiralen, handgefertigt)
Handgeprägtes Masshoff Messing Badge
3-Wege Trick Abhebung (massives Aluminium)
5 Loch Lüftungssystem für die perfekte Teppichansprache
Alle Hardwareteile mit rotem Klavierfilz vom Kessel isoliert
Finish außen: recycelter Original Bezug aus den 1960er Jahren: Rogers White Marine Pearl Finish Ply
Finish innen: rot lackiert
IMPORTANT NOTICE FOR INTERNATIONAL BUYERS
Buyer will have to pay for the real shipping costs. Shipping costs outside of Germany will be calculated seperately. The shipping costs that are shown in our system are only estimated prices. Please ask for shipping costs to your destination before buying.
Finish
Antique White Marine Pearl (0)